Wake up Public! It's all about GREAT RESET, A NEW WORLD ORDER PLAN, ONE WORLD Government AGENDA. Until you read this article you will be left wondering whether it is still necessary for the Indian government to be involved in vaccine development and production.
In India's High Court Bill Gates and Adar Poonawalla are accused of being habitual offenders of earning profits by selling vaccines with death-causing side effects and therefore, they are in the category of "Mass Murderers".
In 2017, Bill Gates and his Foundation were cut off and questions were raised about the Gates Foundation's relationship with pharmaceutical companies and how it might influence vaccination policy.
Related Article:
Centre Shuts Health Mission Gate On Bill & Melinda Gates Foundation
Cameras Captured Top Health Officials Admitting They Don't know Vaccines are Safe. The government should now answer people's questions about mass vaccination campaigns.
DEATH OF A BABY AFTER FORCED VACCINATION, Why was this incident not covered by the mainstream media? Why were they silent? Having this information available to the public was important.
As per witnesses, when parents refused the jab, the child was forced to be vaccinated, after which the baby tragically died.
Feb 2018, Moradabad, Uttar Pradesh
The declaration was signed by more than 3,000 scientists, physicians, and public health experts around the world to endorse the 2022-2026 strategy.
No place is safe until polio has been eradicated everywhere and more than 600 scientists and experts from the country signed the Global Polio Eradication Initiative's declaration that was released 16 OCT 2018 at the World Health Summit in Berlin.
On 23 OCT 2019 Study: Oral polio vaccine causing paralysis in kids: Study Experts urge India to reevaluate its oral polio vaccination program, but health ministry officials argue it has far greater benefits than risks
Related Article:
A declaration signed by more than 600 scientists and experts commits India to fully fund the eradication of polio – Then so called scientists why are they ignoring the side effects of polio vaccines causing paralysis?
CDC, WHO, FDA and their representatives have consistently overstated evidence and misled the public about their own views and policies, including natural versus manmade immunity. All of these scientific mistakes occurred at the time, not in retrospect: school closures and disease transmission, aerosol spread, mask mandates, and vaccine safety and effectiveness.
Related Article:
Pandemic false prophets – WHO: The Pandemic Treaty Is Based on a Flawed
GATES VACCINE DEATHS: Worldwide Bill Gates is being accused of Pandemic Fraud and Vaccine Murder. India has vaccine murder cases against him. In the Italian Parliament he is accused of depopulation and called a criminal. In the U.S. he is accused of mass negligent homicide. Evidence also shows that he knew the mRNA vaccines would cause injury and death, but kept this hidden from the world and ordered Trump in 2016 and 2017 not to investigate the dangerous side effects of vaccines which are now causing catastrophic injury and death around the world.
Related Article:
Worldwide Bill Gates is being accused of Pandemic Fraud and Vaccine Murder. India has vaccine murder cases against him.
On 07 April 2020, Robert F. Kennedy Jr., the nephew of former President John F. Kennedy, took to social media and shared a lengthy message about billionaire Bill Gates and his "obsession with vaccines":
"Vaccines, for Bill Gates, are a strategic philanthropy that feed his many vaccine-related businesses (including Microsoft's ambition to control a global vac ID enterprise) and give him dictatorial control over global health policy — the spear tip of corporate neo-imperialism.
"Gates' obsession with vaccines seems fueled by a messianic conviction that he is ordained to save the world with technology and a god-like willingness to experiment with the lives of lesser humans.
"Promising to eradicate Polio with $1.2 billion, Gates took control of India 's National Advisory Board (NAB) and mandated 50 polio vaccines (up from 5) to every child before age 5. Indian doctors blame the Gates campaign for a devastating vaccine-strain polio epidemic that paralyzed 496,000 children between 2000 and 2017.
In 2017, the Indian Government dialed back Gates' vaccine regimen and evicted Gates and his cronies from the NAB. Polio paralysis rates dropped precipitously. In 2017, the World Health Organization reluctantly admitted that the global polio explosion is predominantly vaccine strain, meaning it is coming from Gates' Vaccine Program. The most frightening epidemics in Congo, the Philippines, and Afghanistan are all linked to Gates' vaccines. By 2018, ¾ of global polio cases were from Gates' vaccines.
"In 2014, the Gates Foundation funded tests of experimental HPV vaccines, developed by GSK and Merck, on 23,000 young girls in remote Indian provinces. Approximately 1,200 suffered severe side effects, including autoimmune and fertility disorders. Seven died. Indian government investigations charged that Gates funded researchers committed pervasive ethical violations: pressuring vulnerable village girls into the trial, bullying parents, forging consent forms, and refusing medical care to the injured girls. The case is now in the country's Supreme Court.
"In 2010, the Gates Foundation funded a trial of a GSK's experimental malaria vaccine, killing 151 African infants and causing serious adverse effects including paralysis, seizure, and febrile convulsions to 1,048 of the 5,049 children."
Alongside his original message were a series of caption screenshots from both known and unknown sources. See below: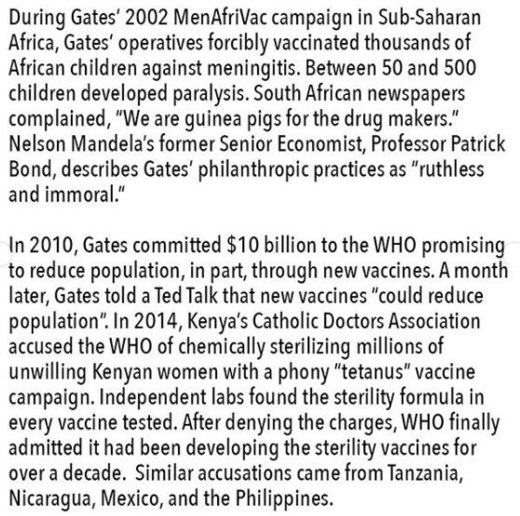 Also Read:
📍Worldwide Bill Gates is being accused of Pandemic Fraud and Vaccine Murder. India has vaccine murder cases against him.
📍VACCINE-MAKING IN INDIA IS A PANDEMIC PROFESSION, NOT A HUMANITARIAN PROFESSION
📍Documentary: Nilesh Ojha, a legal expert, reveals many secrets about the serum institute owner Adar Poonawalla on India Debate with Ashutosh Pathak
📍Secret CDC Report reveals at least 1.1 Million Americans have 'Died Suddenly' since the COVID Vaccine roll-out & another Government Report proves the COVID Vaccines are to blame
📍AVOID FUTURE SHOTS!- Are Vaccines Still Safe? You'll comprehend why governments and major media outlets continue to mislead the public and remain silent regarding the link between vaccine deaths.
📍Marco Cavaleri, the head of the office of biological health threats and vaccines strategy, expressed concern that people are getting blood clots, but Adar poonawala ignored that report and continued to say that vaccinations are safe.
📍Governor of Florida Ron DeSantis requested a grand jury investigation of COVID-19 vaccines
📍The Indian public becomes increasingly angry over Bill Gates' visit to the country, and here's where Smriti Irani teaches him some tadka for Kichidi.
Source: Humansarefree