Now what kind of Honey is available in the market, vaccinated or unvaccinated?
There are alternative methods to vaccines for saving the bees. Each of us can play our part. Avoid using pesticides on your lawn. Many pesticides poison bees. Bees will visit and pollinate flowers if you plant bee-friendly plants, so whenever you can, buy local Honey.
About the vaccine
The vaccine, which contains killed whole-cell Paenibacillus larvae bacteria, is administered by mixing it into queen feed which is consumed by worker bees. The vaccine is incorporated into the royal jelly by the worker bees, who then feed it to the queen. She ingests it, and fragments of the vaccine are deposited in her ovaries. Having been exposed to the vaccine, the developing larvae have immunity as they hatch. Pivotal efficacy studies have indicated that oral vaccination of honeybees may reduce larval death associated with American Foulbrood infections caused by P. larvae. The vaccine is non-GMO and can be used in organic agriculture.
Two scientists who developed a vaccine that will save our food:
In 2019, two female scientists in Finland, Dr. Dalial Freitak and Dr. Heli Salmela developed a way to control one American foulbrood caused by a bacterial infection. 
Foxnews article Published on December 6, 2018 :
The first-ever vaccine for insects now exists, thanks to scientists at the University of Helsinki in Finland, hoping to save one of the most crucial pollinators in the world: the honey bee.
The vaccine, which is edible, "protects bees from diseases while protecting global food production," the university said in a news release. The goal, researchers said, is to protect the bees against American foulbrood, "a bacterial disease caused by the spore-forming Paenibacillus larvae ssp. Larvae."
Also, Bloomberg reported that the disease can kill "entire colonies" while its "spores can remain viable for more than 50 years."
To distribute the vaccine, scientists place a sugar patty in the hive, which the queen eats over about a week. Once ingested, the pathogens in the patty are passed into the queen's eggs, "where they work as inducers for future immune responses," the university explained in the statement.
According to Bloomberg, it was once not thought possible to develop a vaccine for insects, as these creatures' immune systems do not contain antibodies.
"Now we've discovered the mechanism to show that you can vaccinate them. You can transfer a signal from one generation to another," Dalial Freitak, a University of Helsinki scientist who worked to create the vaccine, said in a statement.
According to the American Beekeeping Foundation, honey bees are essential to U.S. crop production, contributing an estimated $20 billion to its value. The species pollinate various crops, including apples, melons, blueberries, and cherries — the latter two are "90 percent dependent on honey bee pollination," according to the foundation.
"One crop, almonds, depends entirely on the honey bee for pollination at bloom time," the American Beekeeping Foundation added.
( https://www.foxnews.com/science/scientists-create-edible-honey-bee-vaccine-to-protect-them-from-deadly-diseases )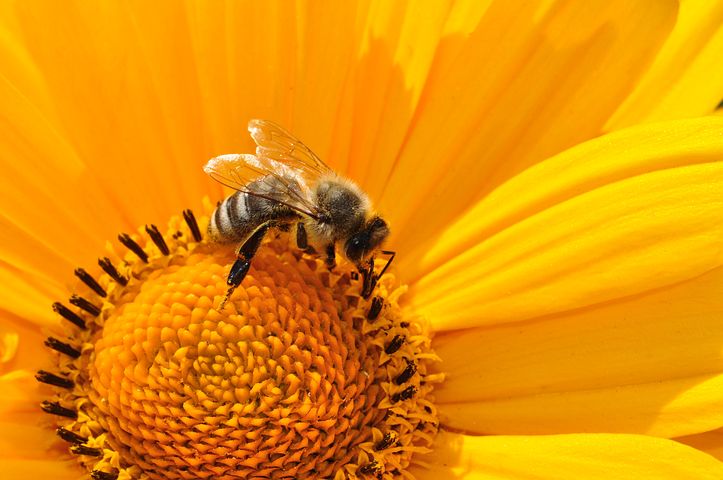 NDTV's article Published on January 05, 2023:
" A Breakthrough": World's First Vaccine For Honeybees Approved In U.S.
The vaccine, developed by a U.S. biotech company Dalan Animal Health, will protect honeybees against American Foulbrood disease.
The world's first vaccine for honeybees has been granted a conditional license in the U.S., a massive breakthrough in protecting these insects critical for food production. The vaccine, developed by a U.S. biotech company Dalan Animal Health, will protect honeybees against American Foulbrood disease.
With one-third of the global food supply relying on pollination, healthy commercial hives are essential to secure high crop yields, a press release by Dalan read. Until now, the only treatment method against the disease was the incineration of bees and infected hives.
"Our vaccine is a breakthrough in protecting honeybees," Dr. Annette Kleiser, CEO of Dalan Animal Health, said. "We are committed to providing innovative solutions to protect our pollinators and promote sustainable agriculture. Global population growth and changing climates will increase the importance of honeybee pollination to secure our food supply."
The U.S. Department of Agriculture has issued the conditional license for two years. Dalan will distribute the vaccine on a limited basis to commercial beekeepers and anticipates having the vaccine available in the U.S. this year.
( https://www.ndtv.com/world-news/a-breakthrough-worlds-first-vaccine-for-honeybees-approved-in-us-3666681 )
News13Now Published on September 26, 2022, Dalan Animal Health raises $3.55M in seed funding for honeybee vaccine
Dalan Animal Health, a biotech startup making an oral vaccine for honeybees, raised $3.55 million in seed funding, the company exclusively tells Axios.
Why it matters: Dalan is among the first companies to develop an effective vaccine for insects in what could become a shift in thinking around sustainable agriculture production.
Details: At One Ventures and Veterinary Angel Network for Entrepreneurs, led the all-equity round at an undisclosed valuation. The round closed roughly two weeks ago, CEO Annette Kleiser tells Axios.
At One Ventures also got an observer board seat as part of the round.
How it works: Dalan Animal Health has created an oral vaccine for American Foulbrood, a bacterial disease that spreads among bee colonies.
The vaccine is given to the colonies' queen bees, who protect the larvae before they hatch in a process called transgenerational immune priming.
Dalan distributes the vaccine to commercial beekeepers in the U.S., hoping to expand in Canada and abroad in 2023 following respective approval processes.
"We know bees are dying. We throw our hands up and say we cannot fix it, but we will not address climate change or pesticide use overnight. Vaccines we can do right away," Kleiser says.
( https://news13now.com/2022/09/26/dalan-animal-health-raises-3-55m-in-seed-funding-for-honeybee-vaccine/ )