Bill Gates: Gene editing can help humanity
Gates advocated for the use of gene editing techniques to address pressing problems in agriculture, where the Bill & Melinda Gates Foundation (BMGF) has been backing research into the use of gene editing for a decade, as well as medicine.
"The technology is making it much easier for scientists to discover better diagnostics, treatments, and other tools to fight diseases that still kill and disable millions of people every year, primarily the poor," he wrote. "It is also accelerating research that could help end extreme poverty by enabling millions of farmers in the developing world to grow crops and raise livestock that are more productive, nutritious, and hardy."
Though some still hold fears about genetic engineering, "such alteration of the genomes of plants and even animals is not new," he wrote. "Humans have been doing it for thousands of years through selective breeding. Scientists began recombining DNA molecules in the early 1970s, and today, genetic engineering is widely used in agriculture and in medicine to mass-produce human insulin, hormones, vaccines, and many drugs.
"New technologies are often met with skepticism," he continued. "But if the world is to continue the remarkable progress of the past few decades, it is vital that scientists, subject to safety and ethics guidelines, be allowed to continue to take advantage of such promising tools as CRISPR."
Gates also recounted a recent visit to the Centre for Tropical Livestock Genetics and Health at the University of Edinburgh, where researchers are using the tools of genetic engineering "to help farmers in Africa breed more productive chickens and cows." Projects include editing the genes of tropical dairy cows to increase milk production by as much as 50 percent, and the genes of Holsteins to grow a shorter, sleeker coat of hair that allows them to better tolerate heat.
Breed History
Irish Roots
The Dexter originated in Ireland. Like the Kerry, they are descended from the predominately black cattle of the early Celts.
The frequently heard theory that the Dexters are a comparatively new breed is a complete fallacy as the breed is fully described and mentioned by its proper name, in a report on Irish cattle written in 1845, by Mr David Low.
From this publication we learn that the breed owes its modern appearance, name, and probably qualities to a Mr Dexter who was agent to a Lord Hawarden (pronounced 'Harden') who came to Ireland in 1750 and made his home in Co Tipperary. David Low stated that a Mr Dexter had produced his curious breed by selection from the best of the hardy mountain cattle of the area, and to have succeeded to a very high degree.
Dexter cattle were first introduced into England in 1882, when ten Dexters were purchased by Mr. Martin. J. Sutton of Kidmore Grange, Oxfordshire from Mr. James. Robertson of La Mancha, Nr Malahide, Dublin. They were first shown at the Royal Show at Norwich in 1886.
By 1892, this native Irish breed was so well established in Great Britain that at a meeting of breeders at the Smithfield club on December 6th resulted in the formation of the Kerry and Dexter/Kerry cattle society.
Is it possible to save the planet with mini cows?
CLICK HEREREAD LESS

Farmers in the US are getting excited about miniature cattle that are less than a metre tall – and may be the future of sustainable beef farming
When you hear the words "mini cows" they sound as if they are the result of someone's daft hobby. But miniature cattle could be the future of environmentally friendly beef.

In the US, where around 30kg of beef is eaten per person each year, farms are ditching Holsteins and Aberdeen Angus for their smaller counterparts, and there are now well over 20,000 mini cows in the US. Professor Richard Gradwohl is responsible for 18 new breeds of miniature cattle on his Seattle farm, including a Miniature Panda – a fluffy eye-patched little cow just 107cm high. (His micromini cattle are less than 96.5cm tall – those shorter than 92cm are known as "teacup cattle".)

"When I started frittering around with miniature cattle, everyone thought I was nuts," he says. Since the 1940s, US farmers have been breeding cows for size, making them much larger than their British cousins. But with Gradwohl's farm being swallowed up by rising taxes, he had to give up 60 acres of land. He discovered that it is possible to raise 10 miniature cows on five acres, rather than just two full-sized cows, meaning that land could yield up to three times as much beef – but the cows only need one third of the feed.

"These little cows were just right for me," he says. And, given worries about cows' contribution to greenhouse gases, it takes 10 mini cows to produce the amount of methane of one full-sized cow.

Gradwohl now ships semen, embryos and cattle all over the world – except to the UK, where 1,400 farmers already breed Dexters, which are 96-111cm tall.

And the mini cows' beef tastes great. The bigger the cow, the longer the cells in the muscle are. A shorter cell means more tender beef, so smaller breeds have naturally better flavour.

Although they sound innovative, mini cows date back to the 1600s, says Gradwohl, when "British farmers developed small breeds because they only had five-acre farms". Now, with a bit of luck, more farmers of the 1.3 billion-strong cattle worldwide might also try them out for size.
Are dwarf cows going to be a great weapon against climate change?
"High-yielding crossbreed varieties of cattle can faint or even die during hot and humid summer days," said E.M. Muhammed, an expert on animal breeding and genetics at the university. "Our natural breeds can better withstand the effects of climate change."

Dwarf cows, on the other hand, appear to carry a "thermometer gene" that allows them to better tolerate high temperatures, researchers said.

Dwarf cows were already gaining popularity among some farmers because they consume less food and water than conventional cattle varieties, the experts said. Small-scale farmers need only one or two dwarf cows to meet the milk needs of their households, they said.
Dwarf cattle to be the next household pet?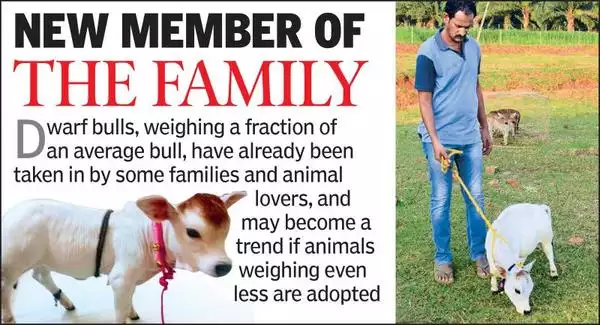 Dec 19, 2020: ABC Mutually Aided Cooperative Society Limited, a state government-authorised semen bank, has on an experimental basis created two dwarf bulls that weigh 200 kilos each, against the average weight of bulls that can attain a maximum of 1,500 kilos.

Society manager P Srikanth said the bulls weighed around 30 kilos at the time of their birth two years ago. Now, they have come to the stage of releasing semen.

"We decided to provide the semen of these bulls to interested people with the intention of creating a culture/trend among people adopting cattle, similar to dogs and cats. We have sent the semen samples for laboratory tests at Southern Regional Disease Diagnostic Laboratory (SRDDL), Bengaluru. We will be ready to provide the semen of these bulls from 2021," Srikanth told TOI. Animal Rescue Organisation secretary said such cultures may become common for future generations. At present, some individuals adopt the animal as a pet and though this is a new trend, it may become popular if animals of a lower weight are provided. "Every discharge of cattle like dung and urine is useful for the owner. The maintenance of cattle as pets is also cheaper since they don't eat meat," Gopal said.

KVV Satyaveni managing director of East Godavari said, "We are making all possible efforts to bring down the weight of the cattle as much as possible so that people can easily adopt them as their pets. People would surely adopt the cattle as pets if we provided them with the best products."
Sosamma Iype is an Indian animal conservationist from Niranam, Pathanamthitta district, Kerala. She was the former Head of the Department of Genetics and Animal Breeding at the Kerala Veterinary University and was awarded the Padma Shri for the year 2022 by the Government of India for her services to conserve the Vechur cow, a native breed of cattle. She, devoted her life to the conservation of the Vechur cows and is often called as "Vechur Amma" literally meaning mother of Vechur cows.

AI (Artificial Insemination) is the option considered by most. where does the semen come from? KAU university.

Is there an account for line breeding and breeding in vechur cows? No.

Some time back KAU stopped the semen supply completely. Now they send it only to selected government vets. This semen is being used on western breeds and other cross-breed cows because of the request from farmers. So after few years how do you recognize and list pure vechur cow? This will all be a disaster.

I have encountered vechur semen being used for short jersey cow few weeks back.

There may be people delicately working in KAU currently. But after Sosamma Iype and others are gone. What will be the state of the government farm? It is a fact that government farms cannot manage even less than 100 cows in a good way. No matter how much funds you invest or feed the cows properly "there is no substitute for personal touch". Some one should connect and interact with cows, or else you leave them to graze through the day and never tie them up. Also let them rest in a big open shed during night.
Additional Information:
What are Mini Cow Breeds?
These cow breeds are dwarf cows with a height ranging from 36″ – 48″ at the age of 3 years. This is generally one-half to one-third the height of normal cattle of the same age. Miniature cattle breeds are found in different parts of the world. These cattle gaining popularity in the farming sector during recent years for several reasons.
Why Mini Cow Breeds?
The human society is at a transition state now with respect to the choices for food and lifestyle throughout the world, after reaching a near saturation level towards high-tech options. Accordingly, people are turning more towards traditional lifestyle and resources for food, accommodation, recreation and so on. Cattle farming also has comeback as homestead, hobby farming etc. The mini cow breeds find place in such farms, as the space requirement is minimum and maintenance of these cattle is practically easy and economically cheap. Apart from these, small-scale cattle breeders also prefer the miniature cattle breeds because an average herd of mini cow breeds can be maintained in small land holdings of about 2 to 3 acres.

These cow breeds are 25-30% more feed efficient than the regular large cow breeds. This makes small and marginal dairy farms to opt for these cows, as the production cost would be low. According to reports, many of the small farm owners are quite happy with this cow breeds for milk production in India as the milk of original desi breeds is in high demand among the urban households. These people prefer desi cow milk over the milk of hybrid cows for feeding the children. Milk of the local pure breed cows are being sold at premium price and hence the low milk yield is getting compensated to a considerable extent.
Mini Cow Breeds of India
India has indigenous mini cow breeds spread over Kerala and Karnataka states. The Vechur and Kasaragod breed from Kerala and the Malnad Gidda breed of Karnataka, share several similarities in their features. A variant of Malnad Gidda breed called Kapila is another mini cattle breed from Karnataka. All these breeds are miniature in size and very efficient in pasture grazing. They are less susceptible to a common udder infection, mastitis which affects the dairy farms in the tropics seriously.  These cattle are highly tolerant to heat, insect bites and pathogens. Probably the diverse plants on which they feed provide extra immunity to these cattle. The heat tolerance of the indigenous mini cow breeds has made them more preferred in small dairy farms as they adapt and perform better than the large cow breeds in the rising temperature due to global warming.
Mini Cow Breeds for Farming
This cow breeds are used in dairy farming throughout the world. Dexter of Ireland and Belted Galloway from Scotland are examples of original mini cow breeds from other countries. Several hybrid miniature breeds of cattle have been generated by different countries for farming purpose. Miniature Zebu, Jersey Mini Cow, Miniature Panda Cow, Miniature Hereford, Lowline Angus, Miniature Highland, Miniature Holstein, etc. are some of the hybrid mini cow breeds being used for farming in different countries.

Source: reuters, Natural Farmers Kerala, Alliance For Science, Wikipedia, TOI, Facebook, Youtube

Also Read: