Regarding PCR tests and their contribution to false Covid-19 figures:
There are always reports about new cases of Covid in the country, hospitalizations, and deaths related to Covid. Those figures are based on people who have a positive PCR test. However, we also know that PCR tests can be falsely positive. If 20,000 people test positive, we know the actual number is less than 20,000. It is unclear how much less because we need to know how much false positivity there is. That is one of the things the health authorities should inform us about. Nevertheless, if they know they're using a false test that generates false positives, they shouldn't claim that's the number of new cases. In addition, they are incorrect in claiming that that number represents Covid deaths. They must determine the cause of death on medical and scientific grounds through a postmortem examination involving blood and fluids and examination under the microscope.
Likewise, any death associated with a positive PCR test, regardless of cause, is labeled a Covid death.
Dr. Kary Mullis, the inventor of PCR, was awarded the Nobel Prize in Chemistry in 1993 for developing the PCR technique. However, Kary Mullis himself criticized the use of PCR as a diagnostic tool.
In a statement, Dr. Kary Mullis, inventor of PCR, said that PCR had been misused in the past.
Dr. Arvind Kushwaha: RT-PCR is a research tool, not a diagnostic test
The RTPCR test is unauthentic
A SHOCKING Fact about RT-PCR | Dr. Biswaroop Roy Chowdhury
As shown in the attached photo, the Australian Department of Health published a factsheet for clinicians, which reads,' It should be noted that PCR tests cannot distinguish between "live" virus and noninfective RNA.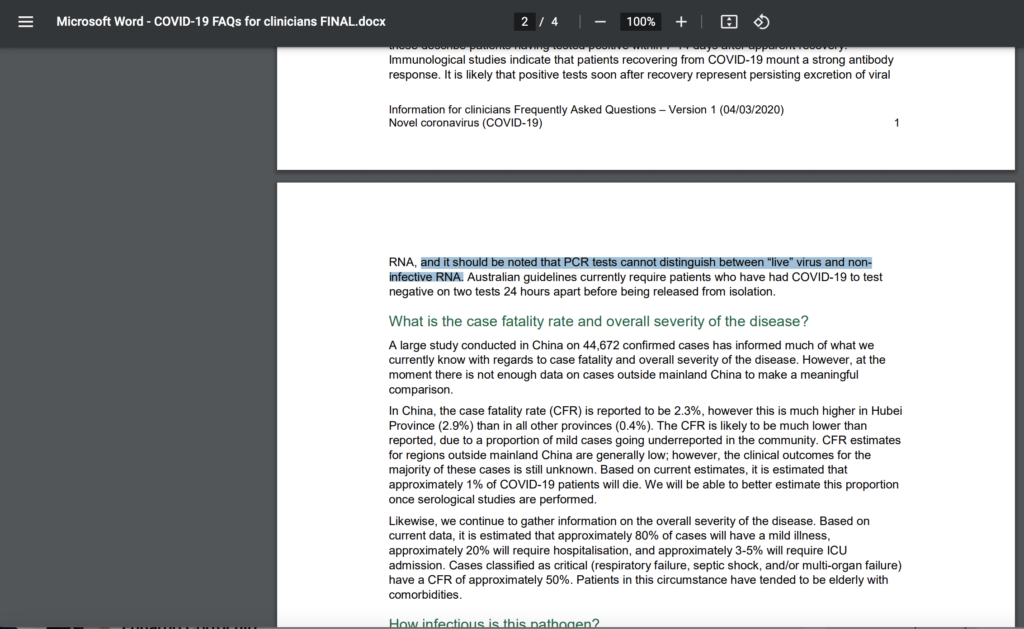 A writ Petition was filed in the Bombay High Court to stop the Covid-19 testing of healthy, asymptomatic persons. The Petitioner has requested for CBI investigation for misuse of taxpayer's money by mandating reckless Covid-19 testing, and that too with a very high Cycle Threshold (CT), resulting in several false positive "cases."