Rishi Sunak joined Bill Gates in London on Wednesday 15 Feb 2023 afternoon to meet British innovators 'solving the challenges of net zero'.
The Prime Minister and the Microsoft co-founder were at Imperial College London to meet with those behind Cleantech for UK, a coalition aiming to open the door to a new generation of green technology start-ups.
The initiative is backed by more than £6 billion of private funding and is supported by Mr Gates's sustainable energy programme, Breakthrough Energy, and organised by Cleantech Group.
Mr Sunak said the investment would go towards meeting the UK's target of reaching net zero greenhouse gas emissions by 2050, as well as creating employment.
Speaking to broadcasters at the university's campus in central London, the Prime Minister said: 'I'm here at Imperial College with Bill Gates, where we've been talking about our shared priorities and securing the UK's status as a science superpower.
'Also welcome today is the announcement of billions of pounds of extra private funding for our best clean-tech companies. I met some of the innovative start-ups here at Imperial College earlier.
'It is fantastic to see these researchers, scientists, business people solving the challenges of net zero, and creating jobs in the process. That's amazing.'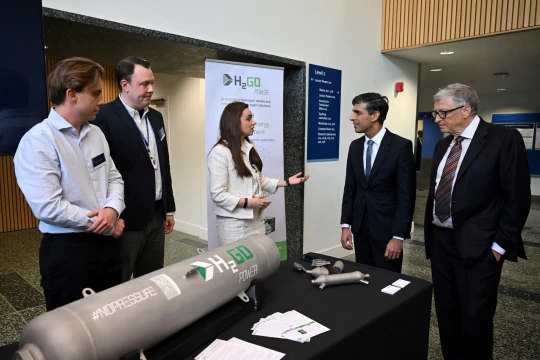 Mr Sunak said the visit tied in with his desire to see more innovation in the economy to help spark growth.
It comes after the Prime Minister earlier this month reshaped Whitehall, dismantling the former Department for Business, Energy and Industrial Strategy (Beis) to create three distinct departments for innovation, energy security, and business.
He added: 'I set out at the beginning of the year my priorities and one of them was to grow the economy, and it is really important that we get science and innovation right.
'That's why last week I created a brand new government Department for Innovation, Science and Technology, but also a new Department for Energy Security – and that's what we're delivering for the British people.'
The Conservative Party leader and the billionaire philanthropist met with three start-up companies on Wednesday, quizzing them on the mechanics of their research and ideas.
One of the companies, H2GO Power, is developing 'disruptive smart technologies' to change how hydrogen is stored and managed.
Another, Econic, is developing catalyst technologies that enable the use of captured carbon dioxide to make low-cost, sustainable plastics.
Mr Gates said: 'The UK has all the ingredients to become a major player in the global push to build a net-zero emissions future, including world-class research facilities and forward-looking investors.
'It's great to see clean-tech businesses, innovators, and policy makers coming together to advance UK climate leadership.'
Professor Hugh Brady, president of Imperial College, said: 'Achieving net zero will require an enormous step-change in our economy, industry and civic systems.
'We are fuelling a new generation of dynamic, clean-tech businesses and helping them to scale and thrive.'
Source: Metro