Vadodara: When other school students were making their plans for further studies, a girl from Chandigarh was painting her future on a blank canvas. It is believed that creativity can be expressed only when the mind is free from all worries, but Rashi's unique art came to the fore when her mind was troubled and her heart was filled with pain. She had to witness a great tragedy in her home. But this tragedy changed her from an ordinary child to an international artist.
In 1989, Rashi's father had a major accident and was lying in bed for a long time. Her mother and brother would take care of him in the hospital and she would take care of her younger sister at home. At that time, she started doodling to relieve her stress. Doodling helped her to reduce her stress to a great extent. She liked it too, and gradually Rashi started enjoying this artwork. At just 10 years old, she had a strong artistic vision.
Despite going through tragedy, today Rashi is recognized as an international award-winning visual artist, designer, and sculptor. And this recognition is not made in a single day, behind it is years of hard work included. She is a gold medalist at the country level and her artwork has been featured in various national and international art galleries. Her work remains selected and gets recognized in many global art platforms, including Dubai World Trade Art Centre, Africa, Australia, South Korea, and Barcelona. At the latest, she received a silver award in the visual arts category by La Dolce Vita Global Art Festival 2020, held in Spain and Google e-books 2020 of her artworks. On this journey, she was appreciated by the California-based Art N Break organization.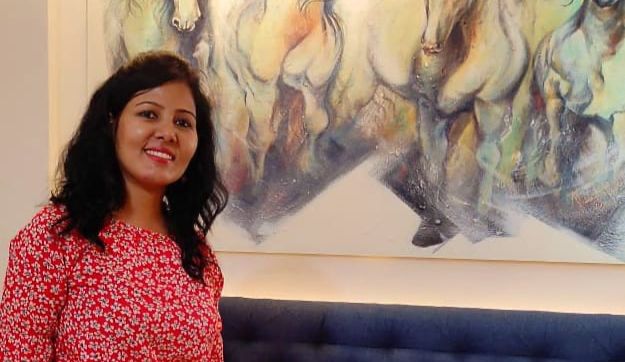 Rashi was born and raised in Chandigarh but got married in Delhi, now she is settled with her family in Vadodara, Gujarat. She is associated with many organizations and charity programs, those who are doing work actively for the betterment of society. She also promotes art awareness among kids and women under Paliwal Arts. She says 'for me, art is a path of adventure which never ends. I always sit myself along with my excitement, strong emotions, thoughts, imaginations, observations, feelings on the ride of my creativity.'
A professional artist in her love for surreal art and fascinated by the mind and universe, she always likes to accept challenges and experiment with anything magical to keep her viewer engaged as being in celebration. Aesthetic expressions of her art, themselves create a forever impression in her mind.