Lucknow: Aligarh Muslim University (AMU) Vice Chancellor Tariq Mansoor and Ram temple construction committee chairman Nripendra Misra's son Saket Misra were on Monday nominated as members of the Uttar Pradesh Legislative Council.
According to a notification issued by Chandrashekhar, Special Secretary, Government of Uttar Pradesh late on Monday night, the Governor has nominated a total of six persons as MLCs against eight vacancies.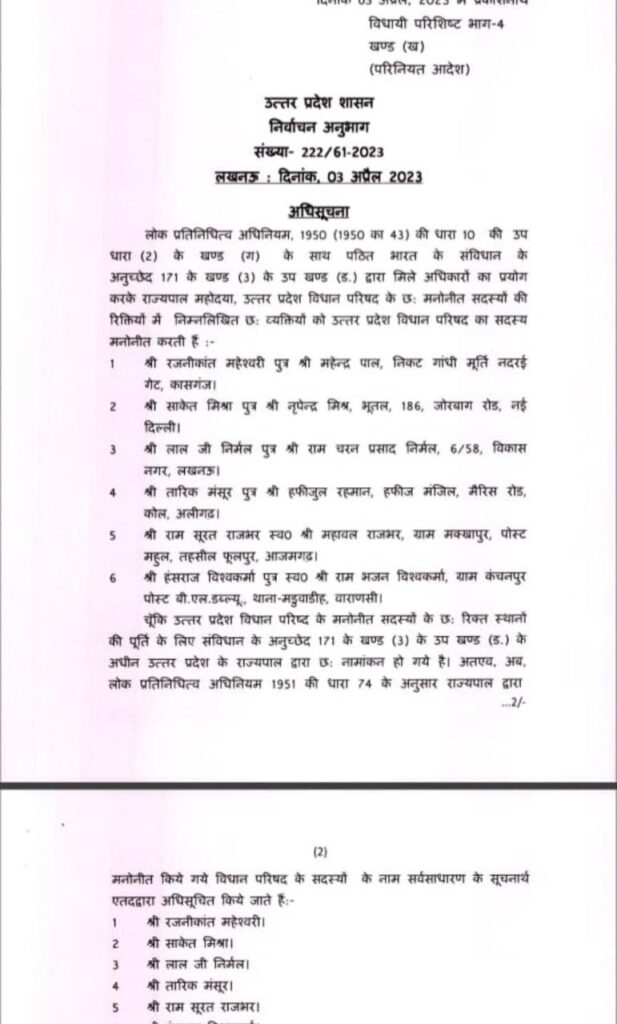 The other four names are: Ambedkar Mahasabha chairman Lalji Prasad Nirmal, former BJP Braj region unit head Rajnikant Maheshwari, chief of BJP's Varanasi district unit Hansraj Vishwakarma, and Ramsurat Rajbhar, who hails from Azamgarh.
According to UP Legislative Council officials, the Governor can nominate up to 10 members to the upper House.
Sources in the BJP and in the Chief Minister's Office said that Saket Misra, son of Nripendra Misra, who also formerly served as principal secretary to Prime Minister Narendra Modi, had in 2019 sought a BJP ticket from Shravasti parliamentary constituency, but it was given to Daddan Mishra who lost to BSP's Ram Shiromani Verma.
Nripendra Misra is currently the chairman of the temple construction committee of the Shri Ram Janmabhoomi Teerth Kshetra Trust.
At present, in the 100-member UP Legislative Council, the BJP enjoys a brute strength of 74 members, while the principal opposition the Samajwadi Party has nine members.
PTI