The procedure was bypassed in hiring 88 block and district coordinators.
February 4, 2022 was a good day for Kaushik Uike. The 30-year-old from Paraswada village in Madhya Pradesh had just learned that his name was on a merit list of candidates for the posts of district and block coordinators in the state.
Kaushik was jubilant.
"Eighty-nine posts were there and around 890 were shortlisted from over 10,000 applicants," he told Newslaundry. "I was among those shortlisted and I was called for an interview."
So, on February 8, Kaushik was in Balaghat city boarding a bus headed for Bhopal for the interview when he got a phone call.
"It was from the call centre of CEDMAP," he said, referring to the Centre for Entrepreneurship Development, Madhya Pradesh. "They said the interview had been cancelled. I didn't believe it."
Kaushik got off the bus. Over the next year, he shot off frantic emails and phone calls to CEDMAP, and was consistently told the interview would happen "soon". Finally, in March 2023, Uike learned 89 candidates had already been hired – he just hadn't been summoned for the interview he was promised.
He also found out that the new hirees had not even figured on the merit list. Instead, Newslaundry found that 88 people hired have connections to the Rashtriya Swayamsevak Sangh. The state government bypassed procedure to allot them jobs, ignoring hundreds of applicants in the process. The BJP, led by chief minister Shivraj Singh Chauhan, is in power in Madhya Pradesh.
Here's what happened.
The Madhya Pradesh government had opened district coordinator and block coordinator posts for the effective implementation of the Panchayat (Extension to Scheduled Areas) Act, 1996. These posts were floated by the panchayati raj department under a scheme called the Rashtriya Gram Swaraj Abhiyan. The recruitment drive was officially conducted by CEDMAP, a government agency. Newslaundry learned that it was later outsourced to MPCON Ltd, a PSU subsidiary.
Advertisements for these posts were issued in November 2021. Monthly salaries were fixed at Rs 25,000 for block coordinators and Rs 30,000 for district coordinators. It cost Rs 500 to apply.
Based on marks and education qualifications, candidates were shortlisted in a merit list that came out on February 4. Interviews were scheduled to take place on February 9, 10 and 11.
At least 12 candidates who appeared on the merit list told Newslaundry their interviews were cancelled.
But who all were selected in their place?
Newslaundry has a copy of the merit list of candidates summoned for an interview, and a list of those finally appointed. Both lists can be link below
( https://drive.google.com/drive/folders/1g8cU0Lxra_JMfun1-rMTn5W-q7d0vmuc )
Saffron connections
Seventy-four people were hired as PESA block coordinators and 14 as district coordinators. None of their names figure in the merit list. They're all from tribal-dominated districts like Barwani, Dindori, Alirajpur, Dhar, Khargone, Shahdol, Ratlam, Narmadapuram, Mandla, Anuppur, Betul, Chhindwara and Khandwa.
Those appointed attended a three-day training programme from February 13 to 15 in Bhopal. Chief minister Chauhan and his officer on duty, Laxman Singh Markam, were in attendance. Markam is also a serving Indian Naval Armament Service officer who's a familiar face at events organised by the BJP and RSS.
Newslaundry independently verified that all 88 candidates have associations with the Sangh Parivar. Some confirmed this to be true, others cut the call, one even threatened this reporter.
Let's start with Pritam Raj Badole, appointed as PESA district coordinator in Barwani. Badole is the publicity head of the Janjati Suraksha Manch, an organisation backed by the RSS's tribal welfare wing. Its primary work in recent times is towards "delisting" converted tribals from the Scheduled Tribes list. On social media, Badole often posts about – and poses for photographs with – Laxman Singh Markam.
Badole told Newslaundry he "submitted his resume" to MPCON Ltd in Bhopal. "On the basis of that, I received the call for training," he said.
But did he apply for the post through official channels? Did he have an interview? Badole promptly cut the call when asked these questions. He did not pick up subsequent calls. As a side-note, Badole once – which was followed by an FIR – against activist Medha Patkar and others for "misusing funds". Like the other appointees Newslaundry spoke to, Badole's name does not figure in the merit list.
Mahendra Singh Bhabhar was appointed block coordinator of Dahi tehsil in Dhar district. He is the social media coordinator of the Bharatiya Janata Yuva Morcha in Dhar.
When asked about his appointment, Bhabhar said in Hindi, "First tell me who gave you my number? What concern do you have with our association with anybody? On whose direction are you are doing this? Just beware…Don't clash with us, otherwise this journalism will be shattered."
Bhabhar then cut the call.
Jeetendra Singh Jamra was appointed block coordinator of Bhabra tehsil in Alirajpur district. He volunteers with the RSS and participates in RSS events, from processions to rallies. He's also a fan of Markam and Nishant Khare, a BJP leader from Indore who's considered to be close to chief minister Chauhan.
Jamra told Newslaundry it will "take a very long time to explain the process" by which he was appointed. "I will call you back in five minutes," he promised. He never did, and our subsequent calls went unanswered.
Like Badole, both Bhabhar and Jamra on social media often share posts on Markam.
Sonu Lal Marawi was appointed block coordinator of Bichhiya tehsil in Mandla district. He is a vibhag sahkarya pramukh of the Akhil Bharatiya Vidyarthi Parishad, the student wing of the RSS. Keertiman Patel, appointed block coordinator in Dhar tehsil in Dhar, is an RSS volunteer and an active member of the Janjati Suraksha Manch.
Revsingh Bhanwar was appointed block coordinator of Tirla tehsil in Dhar district. He is an RSS volunteer and a former national executive member of the ABVP. Jitendra Ninama, the new block coordinator of Naalcha tehsil in Dhar, is an RSS volunteer too. Sachin Bhanwar, block coordinator of Nisarpur tehsil in Dhar, is an RSS volunteer and member of the Janjati Vikas Manch, an RSS affiliate.
Sandeep Kumar Sisodia, new block coordinator of Gandhwani tehsil in Dhar, is an RSS volunteer, as is Vijay Baghel, block coordinator of Kuchhi tehsil in the same district. Baghel is also an associate of BJP and RSS leaders in the state. Dhar's new district coordinator, Dileep Machhar, is an RSS volunteer too.
Sharda Maurya, appointed block coordinator of Jaisinghnagar tehsil in Shahdol, is an RSS volunteer, as is Dinesh Vananaiya, district coordinator of Ratlam. Vananaiya is also an active member of the Janjati Suraksha Manch. Arvind Dhurve, district coordinator of Narmadapuram, is an active member of the BJP.
Balram Baiga was appointed block coordinator of Anuppur tehsil in Anuppur district. He has, at various times, worked with the Vishva Hindu Parishad, Bajrang Dal and ABVP. Neelmani Singh, the new block coordinator of Jaithari tehsil in Anuppur, is a member of the BJP's tribal wing in Madhya Pradesh.
Sukdev Uikey, the new district coordinator of Betul, is an RSS man who works with the Janjati Suraksha Manch. Jaiprakash Singh Gond, appointed block coordinator in Pali tehsil of Umaria, is an RSS volunteer. Surya Pratap Singh Gond, new block coordinator of Kusmi tehsil in Sidhi, works for Ekal Vidhyalaya, a Sangh Parivar organisation.
Man Singh Bariya, a member of the ABVP, was appointed block coordinator of Jhabua tehsil in Jhabua district. Inder Singhad, new block coordinator of Ranapur tehsil in Jhabua, is a member of the BJP. Satish Bhuriya, block coordinator of Barwani tehsil in Barwani district, works for Vanvasi Kalyan ashram, an RSS affiliate. Ashutosh Singla, district coordinator of Khandwa, is an RSS worker who was previously associated with the ABVP.
Ravi Solanki was appointed block coordinator of Bhagwanpura tehsil in Khargone district. His father is Dal Singh Solanki, a former BJP MLA from Bhagwanpura. His brother Nanu Goda was arrested for gangrape in 2014.
Kailash Ninama was appointed block coordinator of Petlawad tehsil in Jhabua. He is the state coordinator of the Janjati Suraksha Manch, the organisation backed by the RSS's tribal welfare wing. He told this reporter to speak to his district coordinator with questions on his appointment.
"I will give you his number," he said and hung up. He never gave us the number, and he did not answer our phone calls.
The district coordinator Ninama referred to is, ironically, also one of the candidates appointed by bypassing the merit list. His name is Gaur Singh Katara and he's the district coordinator of Jhabua. Katara is an RSS volunteer and was an officebearer with Sewa Bharati and Janjati Vikas Manch, which are RSS outfits.
Katara freely admitted that due process was not followed.
"The government needs manpower from time to time," he said. "That's why they hired us. The panchayat directorate had a contract with MPCON which in turn hired us for a year. The process of hiring through job ads and inviting applications takes a long time. The government needed people on an immediate basis for the effective implementation of PESA and other government policies in tribal districts. Therefore, they hired people directly."
How was he selected?
"A contractor can choose whoever he wants to appoint," Katara said. "There is no need to invite applications for a job. We were called for a three-day training course by MPCON. They got our data from somewhere – I don't know where – and called us. People are spreading misinformation about recruitment. Every procedure was transparent and done accordingly."
The appointments detailed in this story are only the tip of the iceberg.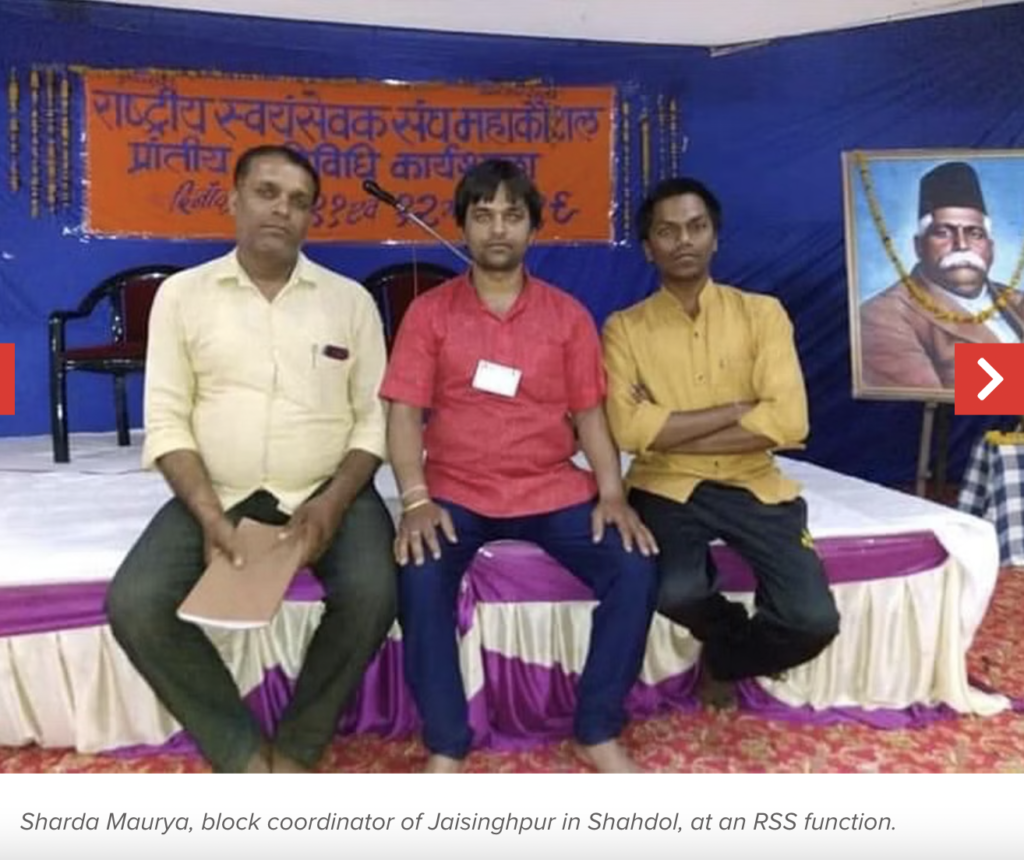 'They fooled all of us': Candidates 
Candidates who made it to the merit list, but not to the interview, are now shattered.
Reena Awchare, 31, told Newslaundry she was on her way to Bhopal with her two-month-old son when she got the call about the interview being cancelled. She then got an SMS confirming the interview was off.
"I was surprised and disheartened because I had high hopes for the job," she said. "If I'd been rejected after taking the interview, that would have been a different issue. But what they did was totally unacceptable."
Reena said she spent a year preparing, hopeful of attending an interview at some point. "They snatched away bread from our hands and handed it to their people for political gains," she said.
Sanjay Bhalse, 38, a resident of Khargone, also made it to the merit list but did not get an interview. "They tricked us for one year and then hired people related to the BJP-RSS," he said. "I studied really hard for the interview. If they had rejected me after the interview, I can understand – but this is an ugly show of nepotism."
Vijay Kawache from Khargone agreed. "Most of these people work for the BJP," said Kawache, who was on the merit list but not interviewed. "Try to understand the level of highhandedness. They didn't even complete the process. Instead, they hired people associated with the Sangh Parivar. We can't do anything about it because no one will hear our grievances."
Mayaram Aawaya, who went through the same circumstances, took matters into his own hands and met with OSD Markam last week. "He said he will reimburse the amount we paid for the application and asked me to come to Bhopal, assuring me that he'd arrange something for me," said Mayaram. "But this is not only about me. There were hundreds of candidates cheated by the government."
Newslaundry contacted Sunil Shrivastava, a deputy manager of MPCON. He said, "The process of recruitment was outsourced by the directorate of panchayats. Based on the data available with us, we recruited candidates?"
How was it that all the candidates bypassed procedure and are from RSS backgrounds? Shrivastava said, "I don't know about that."
Markam told Newslaundry, "I am not the authorised person to talk about this matter and cannot comment on anything."
Panchayat and rural development minister Mahendra Singh Sisodia did not respond to requests for comment. Newslaundry sent a questionnaire to CEDMAP, which was officially in charge of recruiting for these posts. This report will be updated if we receive a response.
Source: Newslaundry